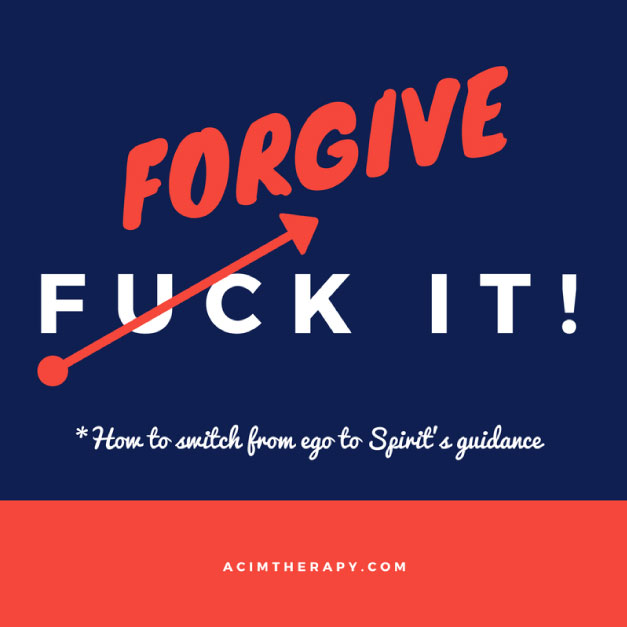 For a quick and easy hack to work the practice of forgiveness into your life, remember this: the next time you're tempted to say or think 'f*ck it' (or 'f*ck them') in anger, annoyance, or upset of any kind, try replacing it with another F-word- it's spiritual equivalent- 'forgive'.

Now I should add, I'm in no way opposed to the friendly use of the term 'f*ck'. In fact, it's practically a relaxed and jovial way to bond with others where I'm from (who's looking at you Australia). It's such a common slang word, it's not even predominantly used in the negative, but rather peppered throughout sentences like a freestanding adjective all of its own.

For our purposes however, note that the emphasis here is on HOW the word 'f*ck' is used. Like any word, it's a neutral symbol in and of itself, so what really matters is the content it's used to represent- the underlying meaning we've attached to it. So the thing to remember is that when we're saying or thinking along the lines of 'f*ck it' or 'f*ck them' WHEN we're feeling angry, upset, irritated, or diminished, that's our cue to become aware that we've chosen the ego- the wrong-minded thought system- as our guide to whatever we're looking at, or thinking of.

And whenever THAT'S the case- whenever we become aware that we've chosen the ego as our teacher- whether we're alerted to that via our foul mood, negative thoughts, or language, we need to remember to turn back to JHS (Jesus/the Holy Spirit) ASAP, and put Him back in charge as our Guide. The quicker we switch back to filtering everything through His Guidance, and remember how He would interpret what we're dealing with, the quicker we can get back to a state of peace, joy and love. And for extra motivation, remember: forgiveness is always ultimately a gift we give ourselves. It only ever benefits us! So the quicker we forgive, the LESS we suffer.
So the next time you find yourself ready to fire off a hate-filled "f*ck" in a burst of annoyance or anger, notice that you've handed over the reigns to the ego and crossed over into madness. The antidote? Take a moment to consciously reconnect to the HS, and replace the ego's little f-word for His big F-word- forgiveness- the means JHS has given us to return to the peace of God.